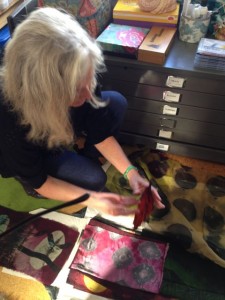 Rhonda Ellem, Fibre Artist and Printmaker

We visited the studio and home of Fibre Artist and Printmaker Rhonda Ellem of Armidale NSW yesterday. Rhonda specialises in Japanese Shibori resist dyeing techniques on silk .. creating wonderful designs in the fabric, sometimes using objects as diverse as CDs and wooden tongue depressors in her practice.  She also experiments with making natural dyes, using plant materials such as Eucalypt and Lichen.   Rhonda has just returned from a trip with her Historian partner Dr Graeme Bourke, to the ancient sites of Peloponnesian Greece where she has found inspiration for her new Printmaking project in the Octopus motifs of funerary urns. It was a pleasure to catch up with Rhonda again. Such a highly talented yet unassuming artist and great cook ! We had a delicious lunch with conversation ranging through workshops that have inspired her practice to the trials of accessing remote and precipitous Peloponnesian temple sites.

                 Nathan Cahill, Musician and Teacher

We met Nathan Cahill at the campsite..Check out his website and compositions HERE headed for the Gold Coast and a Choir premiere performance of a song he penned and composed for the ANZAC Day Dawn Ceremony this morning.. I was 'flangin' away on my Uke when Nathan came over and introduced himself. He teaches Ukulele to his primary school students because he couldn't face the Recorders !.. Now he instructs other teachers in Uke playing and he let me have a go on his 6 string Ukulele while he and his family packed and headed out for the deadline of the performance. Sadly he remembered I had the Beautiful little Lanikai (listen!) in my hot little hands…. ummm,  thats not me playing.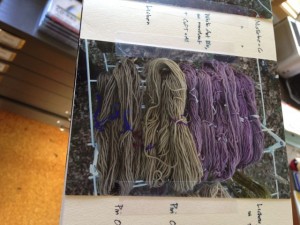 Eucalypt and Lichen