SO left Uralla! the planned one day, two nights, turning into four.
Stopped at Walcha for morning coffee and to pick up some lamb chops and vegies for a stew,
Checked out the bridge and the Main Street…..Amazing !..Somebody has taken a chainsaw to all the posts of the big wide verandas of the Main drag and artfully converted them into sculpture ! Swirling spirals, cunning hatching, figurative forms and the like! .. The same person has done a few others around the town and there is a large steel sculptural structure on the traffic circle.. Up a side street is a shopfront , "The Antepodian Tynker" I think it's called .. repurposed machine parts and all sorts of found objects sculpted into automation like objects.. I wonder if it's the same person who doing the timber ?… I don't think so but I've been known to be wrong…( we were too early in town for the places to be open… including the gallery on the Main Street , "WAoG" I think .. looked good through the window. Nice town Walcha!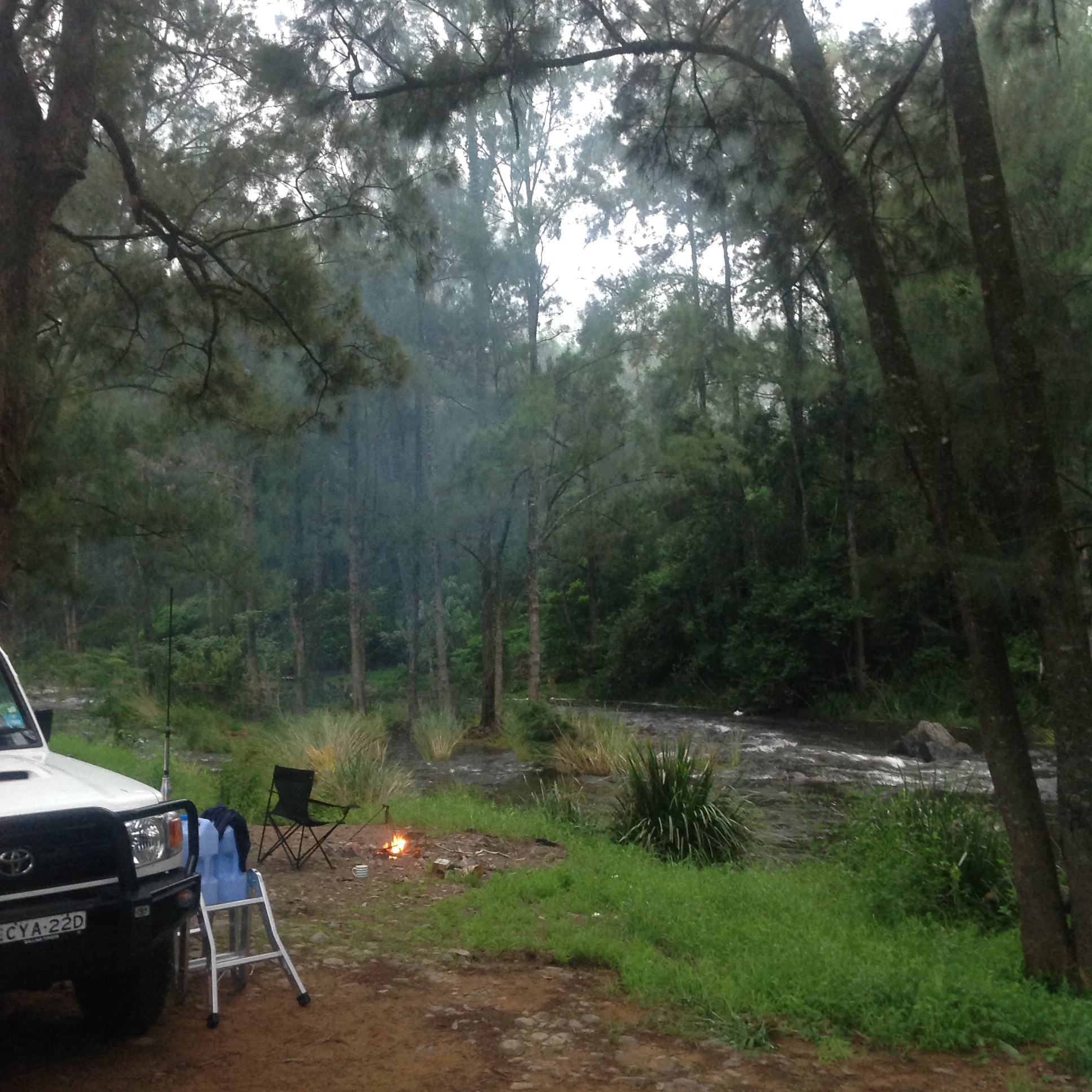 Now we are camped on the Manning river, down off the high country and about forty K's from Gloucester, (We can spell That now!) and planning to spend a second night here before heading to Gloucester (see!again!) to Suss out the second hand bookshops Rosie's brother Mike told us about.
But now I have to finish up the Uralla story! .. It is such a vibrant little town Uralla is… with Armidale close by with all its academics and artists and squatocracy who visit and play and help keep it a-buzz….So….
"Chaucer on Bridge Street Gallery" (www.evansgalleryuralla.com) …With Michael Evans's beautiful large scale pots and urn-like, richly glazed creations… his father David's amazing paintings and his mothers fabulous illustrated story books and Textiles !…Michael saw me sneaking a picture of him at his kiln, through a window from the gallery and came out to Chat …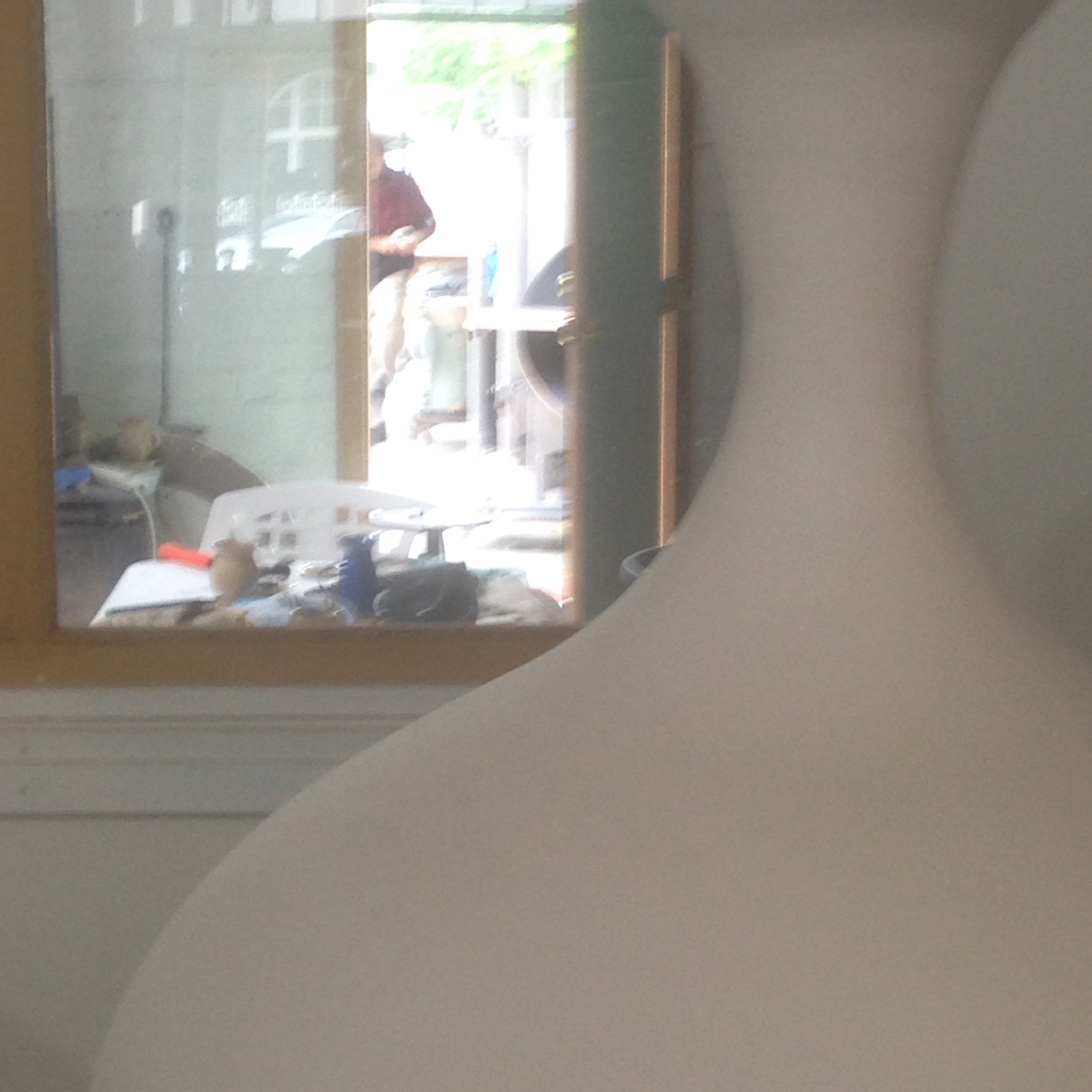 What friendly, interesting man! .. he is working on a commission for a very large platter, some 1000mm diameter, for which he has had to install a larger gas kiln and construct a large sort-of "lazy Susan" wheel to build it on!…
Anyway, he introduced us to the incredible works of his late father, David Evans….
.
David Evans, Scholar and Artist extrodinaire , Creator of the wonderful illuminated and illustrated calligraphic translation, from the old Norse, of the ancient classic Beowulf sagas,… a copy of which is on view in a dedicated room off the gallery, where there are also large postcard sized examples of his illuminated calligraphy on the form of "The Lords Prayer" as well as some original poetry, for sale ..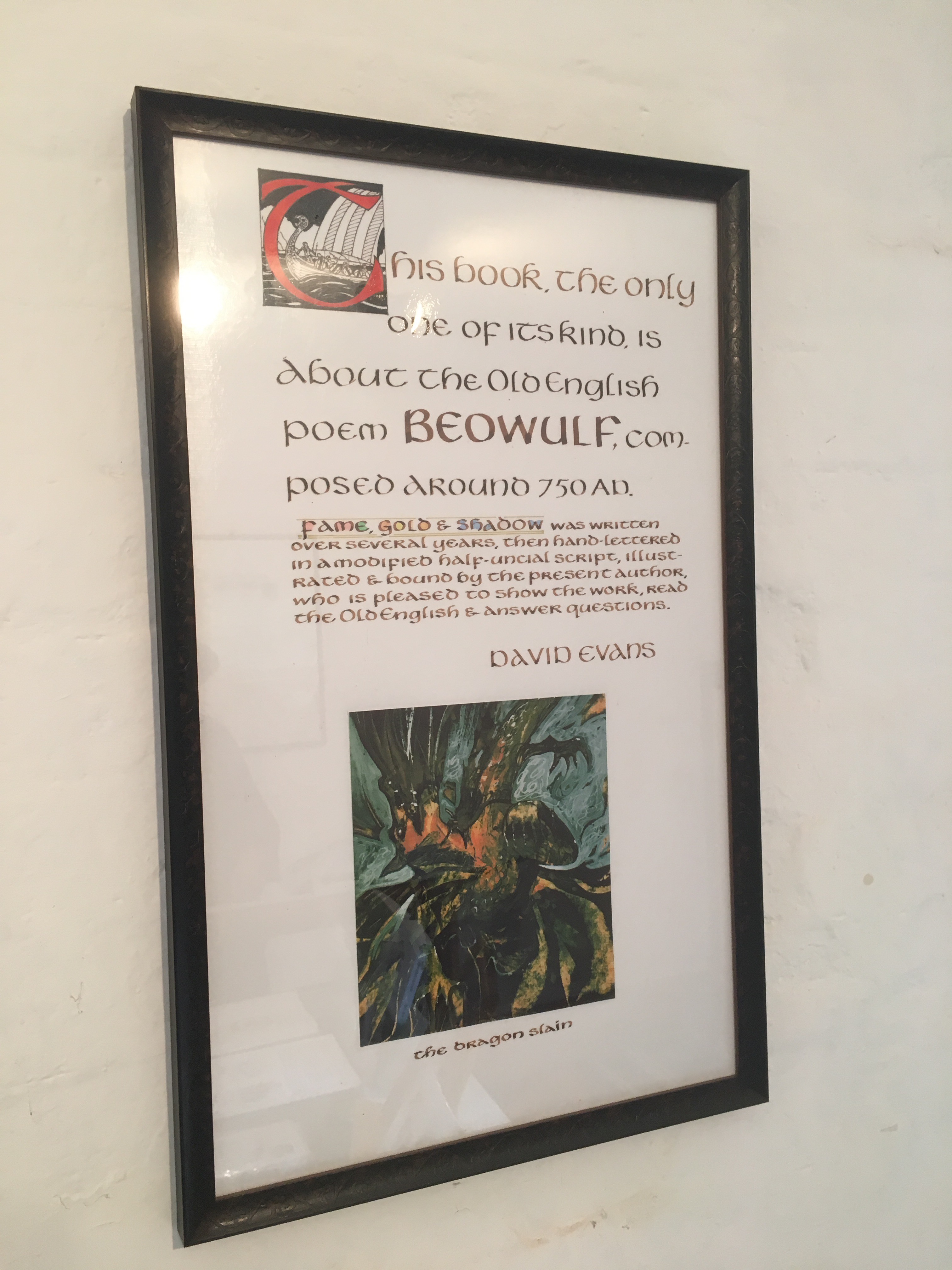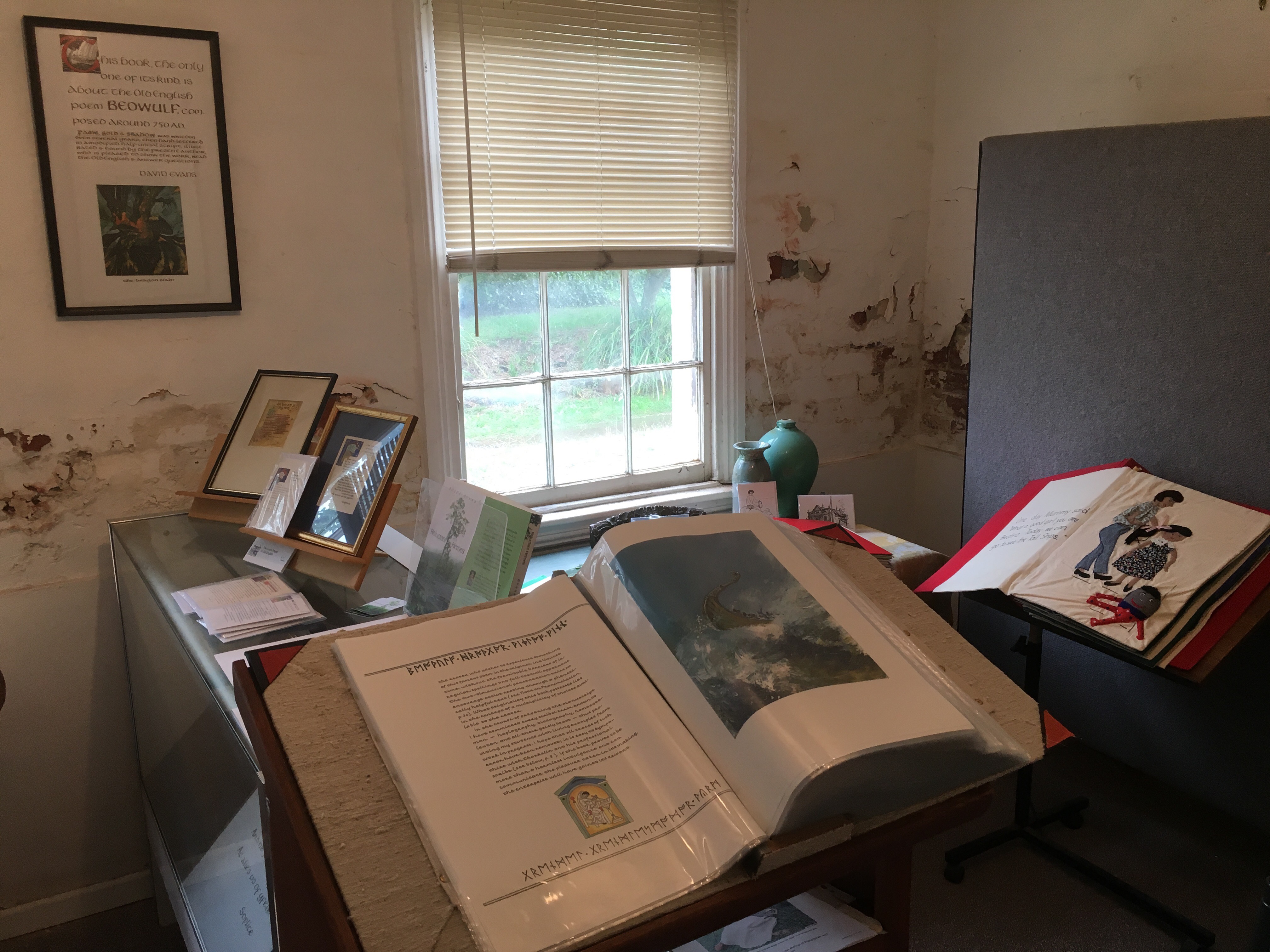 Michael showed us an old painting of a tall, distinguished looking Negro man, posed, violin in hand , before some of the (then new) buildings of the gold rush town of Hillend, NSW. (Now largely a ghost town and long time favourite subject of artists of all caliber)…It turns out that this is a portrait of his great great grandfather who came out to the colony from America and was married to the matron of Hillend Hospital .. I hope I have the stories straightish Michael ! And thank you for your hospitality !
barking dog gallery
(www.barkingdoggallery.com.au)
The domain for the last thirty five years of the wonderful Ceramicist, Christine Ball !
A small gallery, a-stock with the works of various artist's works in ceramic, glass and wood.
It's a pleasure to talk with Christine , seated as she was behind her desk/counter in an obviously well loved and eclectic space with the comfortable feel of years worth of organic fellowship. This gallery and Christine have been an integral part of the culture of Uralla, as I am reliably informed by Rosie !
The Uralla Wool Room ! (www.urallawoolroom.com.au)
I have had a fairly long time relationship with this treasure of a shop, having supplied the owner, the incorrigibly warm hearted Nicola Wilkins, (www.mollydale.com.au) with my range of stainless steel scarf pins, Celtic annular and penannular brooches and kilt pins, for years.
Uralla is in the high country of the New England Tablelands and I imagine the Wool Room is an essential service here !.. Here you will find an incredible range of quality knitwear from the best of Australian and New Zealand's artisans and makers !…(about 80% Au and NZ, Nicola tells me)..A festival of colour and warmth!… including Nicola's beautiful hand dyed yarns and accessories… The yarns which she supplies to Steiner Schools country wide !…The place is also a knitting and crochet school and more ! Be warm !
New England Brewing co.
Hipster Heaven in Uralla !… well… anybody's really.
Rosie and I were heading to the Top Pub (good grub! And convivial!) when we passed a big tin shed all aglow with lights and a-babble with conversation and good cheer.. Hmmmm!..we thinks….. …. … but the lure of dinner drew us on into the night.
However ! .. Saturday Arvo !
was soon apron us and we somehow (?!?!) found our way back to sample a very decent Pale Ale… and I like nothing better then an ale in a shed. (as well some aquaintences may attest?)…. Anyhow .. YAY !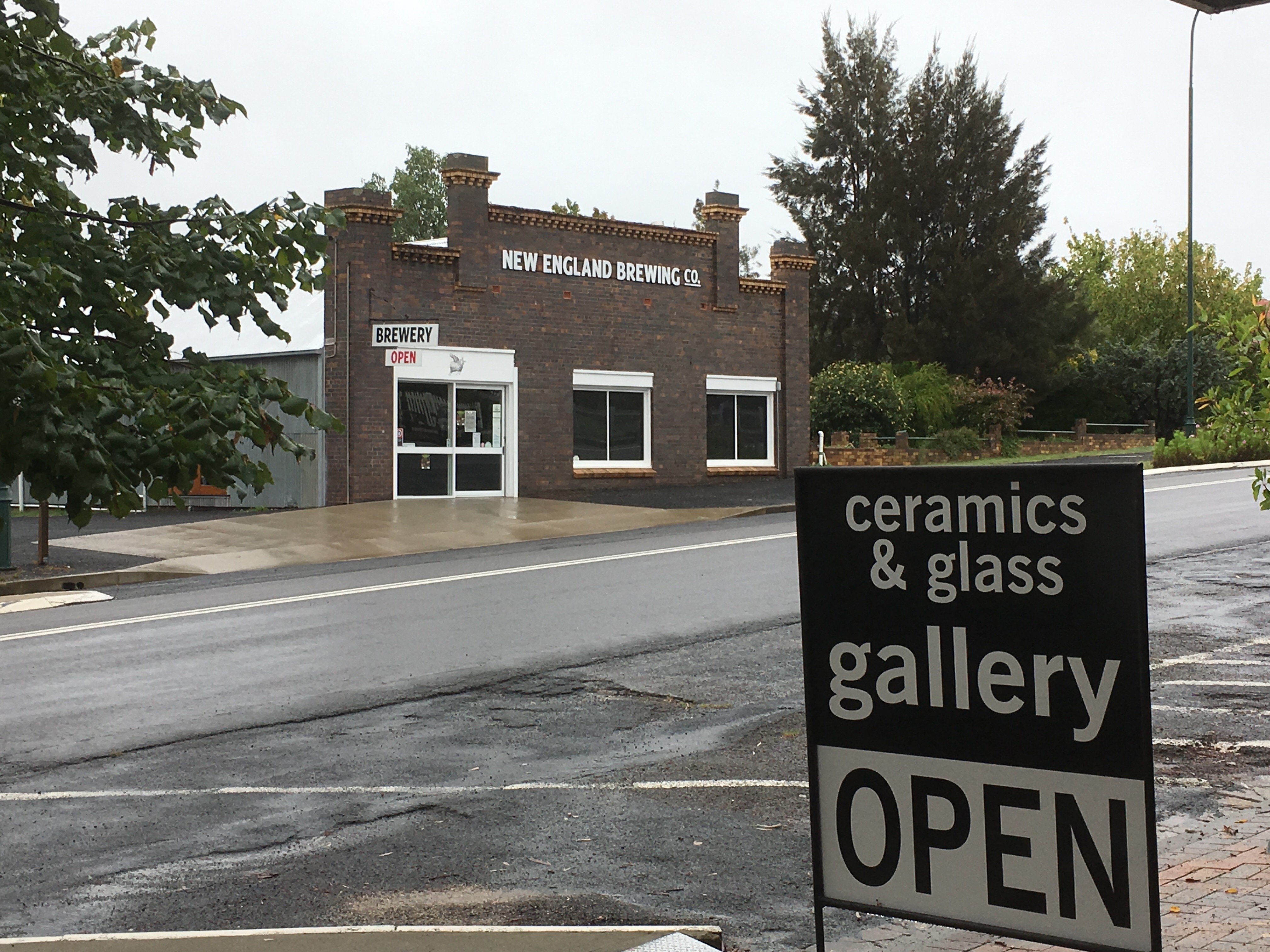 Oh ! .. and overheard at a Cake Stall at the "Seasons of Uralla, 100 Stall expo"…..,
"You could put my mothers mock-cream between two bricks and it would still hold up."
And I should be less bloggered , blogging on this, rather than this iPad ?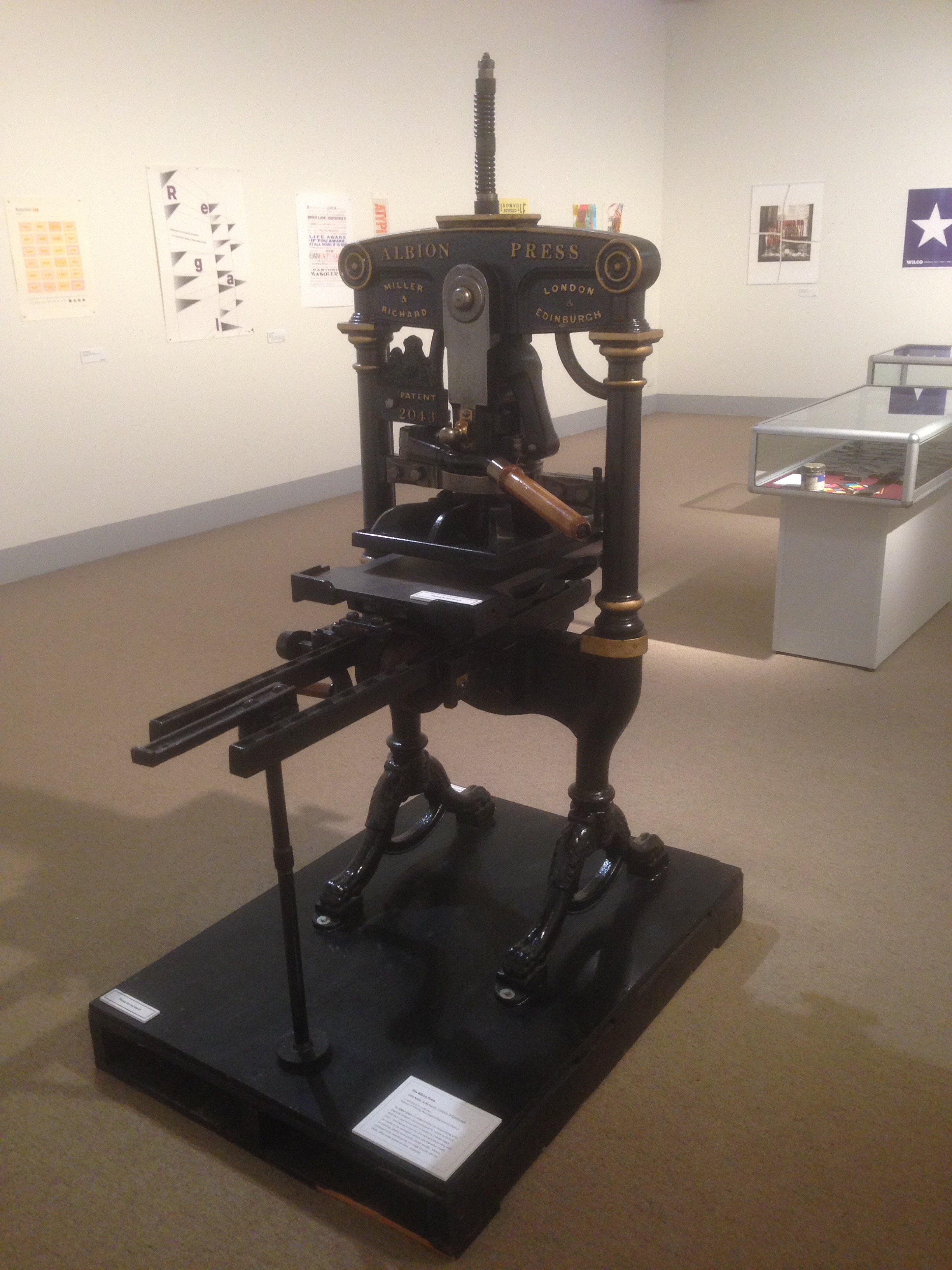 Still too HOT !….. Headed South ……